Josh
About Josh
Josh Duvauchelle is a wellness coach in Vancouver, BC. He focuses on research-based approaches to natural wellness, and how a combination of exercise, diet and lifestyle changes can shift your health to a place of ever-increasing health, wholeness and healing.
He hopes that his regular columns for NewLifeOutlook can help readers change their perspective on their health journey and find empowering ways to educate themselves and find their inner strength.
Beyond his experience as a coach and health writer, Josh is also a fitness expert whose health advice has been featured in USA Today, Men's Fitness, Eating Well magazine, Men's Fitness, Men's Health, Men's Journal, Eating Well magazine, HuffPost, Alive magazine, Teen Vogue, USA Today and many other major media outlets.
Josh's
Work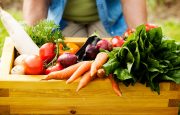 A menopause diet can have a profound effect on how you experience common symptoms, from hot flashes to digestive distress.